Tuesday, September 11, 2012
Hi ya'll! I have let this blog get dusty! It has been over a year since I last posted! Wow I am going to try to be better about that!
Well It is back to school time! This means that our schedules are CRAZY BUSY! Today I started to feed my freezer (no my freezer is not possessed!) with meals. My cousin in-law recently told me about The Crockin Girls cook bk. I knew about their FB page but did not know they had come out with this AWESOME cook book.
http://www.crockingirls.com
Please head on over and show them some love! They are GREAT!
1 for today and 5 for the freezer
(not all recipes are from their cook book, some are my own)
Here is the recipe for the one I made both for tonight and another time. (click on the picture and then click again to make bigger)
Crockpot Teriyaki Chicken:
1 bottle of Teriyaki marinade
1 20oz can of chunked pineapple
1/4 cup onion diced
2 minced cloves of garlic
4 frozen or fresh unfrozen boneless skinless chicken breast


I throw it all in my crock liner bag, then take a rubber band seal bag then place in a big ziplock freezer bag, lable and throw in the freezer!
To use: take out of freezer (FROZEN!) in the morning, take inner bag out and rubber band off. Place liner bag in crockpot, cook on low for 8 -10 hours, and go enjoy a cup of coffee! Dinner will be ready around 6pm! You can always use the keep warm feature if your crock pot has one and eat later than that if needed.
I will be posting more crocking meals in the future. Real life is calling my name (Mommy!) at the moment. Hope you all have a great day!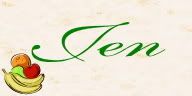 Links to this post
---