Friday, May 8, 2009




1 lb. top round steak, cut into 1" cubes
1/2 c. vinegar
Dash Tabasco
1 c. water
Salt & pepper to taste
2 tbsp. Worcestershire sauce
4 tbsp. catsup
2 tbsp. olive oil

Place meat in casserole. Pour over it the mixture of other ingredients. Sprinkle well with flour (about 2 tablespoons). Cover and bake in a slow oven until beef is tender, about 2 hours. Serves 4.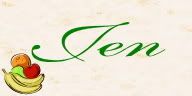 ---