Thursday, April 10, 2008
1 can crescent rolls 1 pkg. taco seasoning
2 cups corn chips, crushed (divided) 1 cup sour cream
1 lb. ground beef, browned
4 oz. grated Mexican cheese (or cheddar)


Separate crescent rolls into triangles and press into the bottom of a pie pan.
Sprinkle crushed corn chips over bottom of crust. Mix taco seasoning and
hamburger and spread over corn chips. Spread sour cream on next and
sprinkle cheese on top. Top with 1 cup of corn chips. Bake at 400º for 15-20
minutes.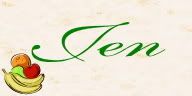 ---