Tuesday, April 8, 2008
A cheerful quick and easy casserole of chicken, egg noodles, seasonings and bright vegetables!
2 1/2 cups of egg noodles (cook according to package instructions)
1 1/2 cups water
1/2 cup diced carrots
1 garlic clove, minced
1/4 cup diced onion
1/2 cup frozen or canned corn
1 1/4 cups milk
1/3 cup flour
1 cup cooked cubed chicken
salt and pepper, to taste
4 ounces (1 cup) shredded cheddar cheese
1. In saucepan, heat water to boiling. Add carrots, garlic, onion, and corn. Return to a boil and cook until vegetables are tender, about 15 minutes.
2. Whisk together milk and flour, to remove lumps. Add to boiled vegetables and return to a boil, stirring constantly. Boil for 1-2 minutes or until thickened. Add cooked chicken and stir. Season with salt and pepper to taste.
3. Grease a 1 or 1.5 quart casserole dish. Spread cooked egg noodles in the bottom and top with the chicken mixture. Sprinkle shredded cheese over chicken mixture and bake at 350 degrees for 30-35 minutes, until bubbly and slightly browned.
I created this casserole as a quick and easy use for leftover chicken and/or egg noodles. The carrots and corn, along with the cheese, add bright colors to this dish and make it feel like a little "sunshine" in your meal. ;) The simple seasonings of garlic, onion, salt, and pepper give a great flavor and make this one of our favorite casseroles. My rating: 10/10.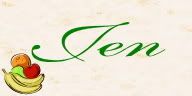 ---