Friday, March 21, 2008
1 lb. ground beef, lean
5 corn tortillas, cut into 6 wedges
2/3 can of undiluted cheddar cheese soup
2/3 package taco seasoning mix
2 med. tomatoes, chopped
1/4 c. sour cream
1 1/3 c. lettuce, shredded
Any other desired toppings
Crumble 1/4 of ground beef into bottom of slow cooker. Top with 1/4 of tortilla wedges. In a small bowl
mix soup and taco mix. Spread 1/4 of soup over tortillas. Sprinkle with 1/4 of tomatoes. Repeat layering
until all ingredients are used. Cover and cook on low 4-5 hours. Spoon onto individual plates. Top each
serving with sour cream, lettuce, etc.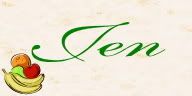 ---