Sunday, January 25, 2009
Stuffed Shells (adapted from Dream Dinners Recipe)

For an 8x8 pan:

1 package frozen stuffed shells (I used Target brand)
1 1/2 cups spaghetti sauce (I used Ragu Old World Traditional)
3/4 cup alfredo sauce (I used Classicco Alfredo with mushrooms)
@ 2 tbsp Pesto (I used Classicco Pesto)

Place shells in an 8x8 pan cover with spaghetti and alfredo sauces. Sprinkle with pesto and top with shredded Parmesan if desired. Cake at 350 degrees for 30 minutes until hot and bubbly!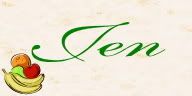 ---