Wednesday, November 12, 2008




(Entire recipe: 105 calories, 0g fat, 58mg sodium, 2g carbs, 0g fiber, 0.5g sugars, 0g protein = 2 Points)

Ingredients:

6 oz. Sierra Mist Free (or Diet Sprite Zero, or your other fave no-cal lemon-lime soda)

*1.5 oz. tequila

1/2 tsp. Crystal Light powdered drink mix, Lemonade

1 oz. lime juice
Optional: lime slice for garnish and salt or no-calorie sweetener for rim of glass

Directions:

If desired, run some lime juice along the rim of the glass and dip into a dish of salt or sweetener. Mix all ingredients together. Pour over 1 cup of crushed ice. Optional: Garnish with lime slice. Enjoy. Serves 1!

*You can also make your margaritas alcohol-free. Each recipe, without tequila, contains around 10 calories!














Fun Margarita Facts!





The world was introduced to the margarita in the late-1930s, by a bartender named Danny Herrera.

The frozen margarita was invented in Dallas, Texas in the early 70s.

If you want to make your HG margarita frozen, you may want to check out this handy item.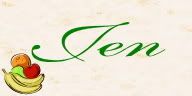 ---