Monday, November 17, 2008
1.

Put in crockpot:
4 Chicken breasts
Sprinkle chicken w/ salt & pepper, garlic powder, any other spices
1 can stewed tomatoes
2.

Let chicken cook for an hour or so, then add:
1½ cup rice (regular rice, not minute rice)
1 cup salsa
1 can black beans, drained
1 can kidney beans, drained
1 tsp sugar
3.

Cook on low for 5-6 hrs.
4.

Shred chicken; fill tortillas & add grated cheese, sour cream, lettuce.
** Note: If you like things on the spicy side, add cumin & some chile powder.
** Also: This makes TONS of leftovers for lunches or to freeze for later!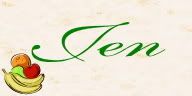 ---