Friday, March 21, 2008
1 can cream of mushroom soup
1/2 cup onion, chopped
1 package flour tortillas
3 cloves garlic, minced
3 cups chicken, cooked and diced
1 can black olives (optional)
1/2 cup milk
2 cups cheddar cheese, grated
Oil
Preheat oven to 350 degrees. In a skillet, fry the tortillas quickly in hot oil until soft. In a medium-sized
bowl, mix chicken, soup, milk, onions, garlic, and olives. Layer tortillas in a greased 13x9x2-inch pan with
chicken mixture and cheese, ending with a layer of cheese on top. Bake until mixture starts to bubble
(about 25 minutes). Serve with sour cream.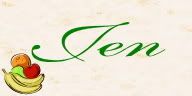 ---