Monday, March 24, 2008
2 cans cream of mushroom soup
1/2 pkg. dry onion soup mix
1 large round steak
1/2 cup beef broth
Preheat oven to 300 degrees. In a medium-sized bowl, mix together soup, onion soup mix, and beef broth.
Place round steak in a casserole dish and pour soup mixture over the steak. Bake for about 3 hours.
Serve with rice, noodles, or mashed potatoes.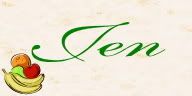 ---