Tuesday, November 11, 2008
1 box spice cake mix, 1 (small) can of pumpkin, 1 pkg chocolate chips

Mix first two ingredients with mixer. Add chocolate chips, drop by tbsp. on baking sheet.
350 degrees for 10-12 mins



I got this from a friend of mine, Melony Henry. It is very good and easy!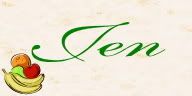 ---