Monday, November 17, 2008
makes 24 (large) muffins

* 2 (8.5 ounce) packages cornbread mix like Jiffy
* 2 tablespoons brown sugar
* 2 eggs
* 1 1/2 cups milk
* 1 cup grated Cheddar cheese, american worked great too
* 1 pkg. (9) hot dogs, cut in small pieces and browned
*1/3 cup baking mix (like bisquick), but I used waffle mix (optional, but the batter looked a little thin to me)
1. Preheat oven to 400 degrees F. Lightly grease muffin tins.
2. Stir together the cornbread mix and the brown sugar in a large bowl. Whisk the eggs and milk in a small bowl until smooth. Fold the eggs, cheese and hot dog pieces into the dry mixture until moistened. Spoon mixture into muffin tins until 2/3 full.
3. Bake in a preheated oven 14 to 18 minutes, or until golden brown.
I got this recipe from
Kay
! Thanks for sharing! They were so good, that some kid stole one off my photo plate, before I could even try them. Good thing it made 2 dozen!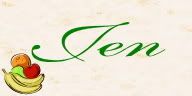 ---